This is a new feature on my blog where I'll bring you eco and wallet-friendly items I stumble upon! First up, BC Footwear's "Danke" sandals. From their "I Used To Be A Rice Bag" collection, the tops of these chic, fashionable, eco-friendly flip flops are made out of recycled rice bags, so each pair has their own unique look!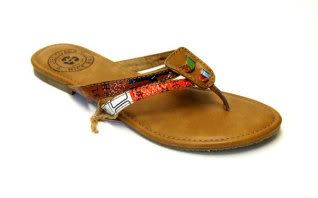 They also feature a cushioned insole with a rubber sole and every pair comes with it's very own reusable tote bag! I think they're just adorable and very easy on the coinpurse, priced around $30. They're a bit hard to track down on the internet, but try
Amazon.com
or your local Nordstrom store.